OpenBook



OpenBook 9.0 is Now Available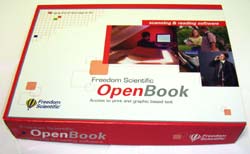 OpenBook allows you to convert printed documents or graphic based text into an electronic text format using accurate optical character recognition and quality speech. OpenBook's many powerful low vision tools allow you to customize how the document appears on your screen, while other features provide portability.
Click here for online purchasing.
When you order anything from Dancing Dots, you are supporting our efforts to promote independence for blind musicians everywhere.
OpenBook provides you with the flexibility to use either of the two leading text to speech software synthesizers: RealSpeak and ViaVoice. RealSpeak features a natural, human-sounding voice that can help enhance your reading experience. ViaVoice provides practical and efficient speech for editing or skimming documents. OpenBook also supports most hardware speech synthesizers.
System Requirements:
OpenBook 9 supports 64-bit and 32-bit versions of Windows® 7, Windows Vista® and Windows 2008 Server, and 32-bit versions of Windows XP and Windows 2003 Server operating systems.
Features and Benefits in OpenBook 9.0
Fast Optical Character Recognition (OCR)
OpenBook 9 features the fastest and most accurate text recognition available. Place a document on a scanner or under the PEARL® camera and OpenBook begins to read and display the recognized text on the screen within seconds of acquiring the image.
PEARL Portable Reading Camera
OpenBook 9 and the new PEARL camera provide the ultimate in portable acquisition and reading, making capturing text images faster than ever before - enabling you to snap a picture and begin reading in a matter of seconds. The convenient page guide helps you align your documents so you capture a good image every time. Place paperback books sideways and the PEARL will capture two pages at a time. For larger books, such as text books, align the spine of the book at the edge of the guide to capture single pages at a time.

OpenBook captures up to 20 pages per minute. OpenBook's built-in motion detection prevents snapping a picture until a page is turned and is perfectly still. The PEARL is designed to capture great images in standard room lighting. If the room is unusually dark, the built-in LED light can be turned on to provide additional lighting.
Use PEARL as a Video Magnifier
OpenBook 9 includes a new Camera View that displays a live image on your screen of the item currently under the PEARL camera. This allows you to use PEARL as a video magnifier and perform various short-term tasks where you may require a magnified view such as magnifying the serial number on a CD or a set of instructions on the outside of a box. The Live View and captured Exact Views feature the ability to change zoom levels and the Virtual XY table to visually read through the text. Camera View is activated through the View menu, or you can press CTRL+SHIFT+V to cycle between Text View, Exact View, Split View, and Camera View.

---
Online Purchasing
Please note that we can only ship Freedom Scientific products to United States addresses!

OpenBook 9.0

for all versions of Windows, Our Online Price $995
Please note Dancing Dots is only authorized to provide products manufactured by Freedom Scientific to customers in the United States who also order one of our Accessible Music technology products such as: GOODFEEL, LimeAloud or CakeTalking.

OpenBook 9.0 is Now Available Freedom Scientific's OpenBook 9.0 scanning and reading software goes beyond providing access to printed documents or graphic-based text.
---
OpenBook, Upgrade OpenBook for Windows Upgrade to 9.0, $150